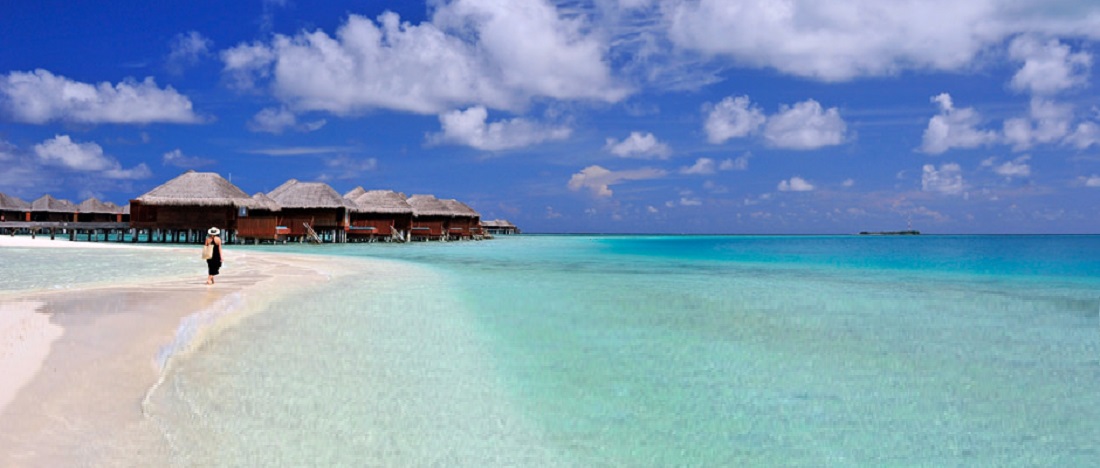 These are some of the questions you would have mostly. However if you have other questions, please feel free to contact us.
---
WHAT KIND OF HOLIDAY WILL I GET IN MALDIVES?
A typical Maldives holiday will be very relaxing and laid back with plenty of snorkeling, diving or lying around on soft sandy beaches or rejuvenating with an exotic spa treatment. Each resort is a tropical island on its own. Though facilities and styles will vary, all of them provide a blissful romantic holiday setting for couples and a unique tranquility to give plenty of rest and relaxation for all.
---
DOES MALDIVES SUIT FOR FAMILY VACATIONS?
Families are also well catered for in the Maldives with many resorts offering fantastic multi-bedroom villas that are located both on the beach and over water. Some resorts offer special children's facilities though not to a large extent. If you are taking children they need to be relaxed and adaptable, and not expecting full-on entertainment all the time.
---
WHAT IS THE BEST TIME TO TRAVEL TO MALDIVES?
The warm and sunny weather that lasts throughout the year makes Maldives a holiday destination to be visited anytime of the year.
However, if you are looking for a few extra hours of sunshine, you should visit the Maldives between December and April which is considered the 'dry season'. This is the high season, and resorts can be fully booked and prices are higher than the rest of the year. The Christmas/New Year period is the busiest and most expensive period of the high season.
Between May and November it is still warm and sunny, though the skies can be cloudier and humidity is higher. This is the low season, and the prices are cheaper for accommodation.
---
WHAT ARE THE AIRLINES OPERATING TO MALDIVES?
International Airlines and charter flights that currently offer passage to Maldives are Aeroflot Airlines, Air Berlin, Air India, Air Italy, Alitalia, Austrian Airlines, Bangkok Airways, Blue Panorama Airlines, British Airways, Cathay Pacific, China Eastern Airlines, China Southern Airlines, Condor, Corsair International, Czech Airlines, Edelweiss, Emirates, Etihad Airways, Eurofly, Expo Aviation, First Choice Airways, Hainan Airlines, Hong Kong Airlines, Hungarian Airlines, Korean Air, Lauda Air Italy, Livingston Air, Malaysian Airlines, Mega Maldives, Meridiana, Mihin Lanka, Monarch Airways, My Travel Airways, Neos Spa, Oman Air, Qatar Airways, Saudi Arabian Airlines, Sichuan Airlines, Singapore Airlines, Sri Lankan Airlines, Star Airlines, Swiss Air Thomson Fly, Transaero Airlines, TUIfly, Volare Airlines, and XL Airways France
---
DOES ISLAND TRAVEL™ BOOK OUR FLIGHTS TO MALDIVES?
Being a Maldives inbound travel services provider operating at the destination, we do not arrange flights for your travel to Maldives. The best way for arranging your air travel is through a Tour Operator or a Travel Agent at your city/country. In case you need our advice in this regard, we would be happy to assist you with the information and recommendations of potential Agents at your location for your flight booking.
---
WHAT IS THE TIME DIFFERENCE?
The Maldives is +5 hours GMT/UTC, which means 5 hours ahead of Greenwich Meantime and Universal Time Coordinated.
Although there is no daylight saving in Maldives, certain resorts have set their own "island time" which is mostly +6:00 hrs GMT/UTC and this is done for their guests to experience more daylight hours in the evening. However, all flight and transfer times are given based on the Maldives standard time.
---
DO I NEED A VISA TO ENTER THE MALDIVES?
You do not need to arrange a visa prior to your holiday travel to Maldives as a free visit visa up to 30 days is issued on arrival for all nationalities. However, you need to possess a passport with validity for 6 months from the date of entry, have a valid ticket to continue the journey out of Maldives, and have enough funds to cover the expenses of the duration of your stay in Maldives or a confirmation of a reservation of accommodation.
---
WHAT SHOULD WE TAKE WITH US?
Pack some suitable clothes for warm weather, one or two bathing suits, shorts and t-shirts. Make sure to bring a sun hat, a pair of sunglasses, beach shoes, flip-flops or sandals, and sun block. Men and women should have at least one casually elegant summer outfit; for example a pair of pants and closed-toe shoes for men for evening fine dining. Lastly, a sweater or wrap may be needed for the cool evenings or for air-conditioned areas. Resort boutiques sell a selection of apparel, accessories, reading material, and sundry personal pleasures for those left at home.
---
WHAT IS PROHIBITED TO TAKE TO MALDIVES?
It is illegal to take with you narcotics, explosives, weapons, firearms and ammunition, material deemed contrary to Islam, pornography, pork and pork products, alcohol, idols for worship. Tourists travelling to the resort islands are usually allowed to bring in religious material for private use.
---
WHAT IS THE LANGUAGE SPOKEN?
Dhivehi is the native language and the national language of Maldives. English is the most popular second language of the country. English is the main language spoken at the resorts, but resorts have staff who are fluent in other foreign languages as well.
---
WHAT IS THE CURRENCY IN MALDIVES?
The Maldivian currency is Rufiyaa (MVR) and it is closely linked to the US Dollar. All resort islands and local tourist shops accept US Dollars.
---
IN WHAT CURRENCY SHOULD I HAVE MY MONEY?
When holidaying in a resort island or a safari yacht, you basically would not need to have local currency with you. Any bills you incur with the hotel such as drinks and extras are best settled with a debit or credit card at the end of your stay. You may need some cash to tip the room boys and restaurant staff. If you do this, they prefer it in foreign hard currency. The only time you are likely to need local currency is if you visit a local Island, or the capital Malé on a shopping trip. In this case, you can get Rufiyaa from your hotel reception either in exchange for US dollars or against your card.
---
ARE THE TRAVELERS CHEQUES ACCEPTED?
Traveller's Cheques are now not accepted at any bank or at any resort island in the Maldives.
---
HOW DO I RESERVE MY TRANSFERS TO THE RESORT ISLAND?
As an essential part of your holiday booking, along with your accommodation we book your transfers to the resort in accordance with your arrival and departure times.
---
WHAT IS THE PROCEDURE AFTER ARRIVAL AT MALE INTERNATIONAL AIRPORT?
After you clear Immigration and Customs on your arrival, you will be met and welcomed by our Representatives who will assist you there onwards at the Airport and usher you to the point from which you get your transfer to your booked accommodation. At the Resort you will be provided with the accommodation that has been booked for you. There onwards you will be staying under the care of the Resort until your departure. As from your local Agents, should you need any assistance from us during your holiday, we would readily provide all the assistance.
---
DOES THE TIME OF THE DAY MATTER FOR TRANSFERS TO AND FROM RESORTS?
Yes. There are constrains from the time of the day for the seaplane and speedboat transfers.
Seaplanes are operated only during day light time. In order to secure a seaplane transfer on the same day of your arrival, you need to check-in for the seaplane flight before 3:30 pm. Similarly, transfers back to Airport from resorts are not possible before 6:00 am and after 3:30 pm.
Speedboat transfers to and from the resorts in the Malé Atoll are mostly provided day and night, though speedboat transfers of resorts located beyond the Malé Atoll are not provided at night time.
Domestic flights operate on a schedule and flights can be available day and night.
---
WHAT IF A TRANSFER IS MISSED OR CANCELLED?
The resorts or we as Travel Agents will not be liable for any missed or cancelled flight or boat transfers associated with cases of force majeure or for reasons beyond the control of the transfer operator or us. Therefore, all travelers are advised to obtain an insurance cover for such situations.
---
WHAT IS THE BAGGAGE ALLOWANCE ON SEAPLANES AND DOMESTIC FLIGHTS?
The standard permissible baggage weight on seaplanes is 25 kg, which includes 20 kg of checked-in luggage and 5 kg of hand luggage per person.
A 25kg free baggage allowance is given for each passenger on domestic flights.
With both types of flight transfers, the extra weight charges depends on the flight destination and the weight for any baggage should not exceed 32 kg.
---
WHAT IS THE SUITABLE DRESS?
Casual attire is fine at resorts and other islands you visit. Barefoot is acceptable in most facilities at resorts during the day and night. Even male guests are expected to wear tops with sandals or flip flops when dining at restaurants. Nudity is forbidden everywhere and modest clothing of non-diaphanous material are recommended when visiting the capital Malé and other inhabited islands.
---
DO I HAVE TO PRE-BOOK RESORT ACTIVITIES SUCH AS DIVING, WATERSPORTS, EXCURSIONS AND SPA?
Not really. Once you arrive at the resort you could discuss with the concerned activity providers and arrange the times and packages which you wish to experience.
---
IS IT POSSIBLE TO GET A LOCAL SIM CARD CONNECTION?
If you want to stay connected, buying a SIM card on your arrival is an inexpensive and a simple process. The Maldives mobile phone companies have their stores in the arrivals area of Malé International Airport and can get a SIM card connection on your passport. This is the best place to get a SIM card for anyone arriving by flight for voice and data use in Maldives.
---
IS LIQUOR VERY EXPENSIVE IN MALDIVES?
Yes. Maldives being an Islamic country alcohol is not produced and all imported liquor is highly priced. If you drink a fair amount, it is well worth taking an All Inclusive package to avoid a huge drinks bill at the end. Equally, if you do not drink much, it is well worth going Half Board or Full board, as otherwise you will be paying a lot for alcoholic drinks that you will not be consuming.
---
HOW IS THE AVAILABILITY OF LIQUOR?
Liquor is served to foreign guests at resort islands, safari yachts and the Hulhulé Island Hotel located on the island of Malé International Airport.
---
WHAT IS THE WATER TEMPERATURE?
The water temperature is pretty consistent in the Maldives usually between 27°C and 29°C, except in the far south where the water temperature can drop down to 24°C during the northeast monsoon. Occasionally, there are thermo clines in deeper water.
---
DO I NEED TO HAVE VACCINATIONS BEFORE TRAVELLING?
No special vaccinations are required. However, you should check with your Physician for the most up to date information regarding vaccinations.
---
IS MALDIVES A COUNTRY WHERE THERE IS A RISK OF MALARIA INFECTION?
In 2015, World Health Organisation declared Maldives as a Malaria free country.
---
WHAT ARE THE KNOWN DISEASES IN MALDIVES?
Dengue fever as well as Chikungunya fever are diseases that outbreak periodically in Maldives. Both of these are mosquito born infectious diseases, and adequate mosquito protection is highly recommended.
---
ARE THERE ANY HEALTH CONCERNS?
As with all tropical environments, there can be occasional outbreaks of food poisoning. If you are vulnerable to this, avoid raw salads and drink only bottled water.
---
ARE THERE ANY SAFETY CONCERNS WHILE AT THE RESORTS?
Most likely dangers in the Maldives are getting sun burnt, grazing yourself on coral while snorkelling and swimming.
---
CAN I USE MY ELECTRICAL EQUIPMENT IN MALDIVES?
The voltage supplied is 220 - 240V of 50Hz, and if you need to plug in an appliance that was built for 110 - 120V, you would need a step-down transformer. An adapter may be required for plugging your appliances as the socket types used are "Type C" European CEE 7/16 Europlug, "Type D" Indian 5 Amp BS-546 or "Type G" British BS-1363. Most hotels provide hair dryers and some other essential electrical amenities.
---
IS THERE DUTY FREE SHOPPING?
Duty free shopping is only available at the departure terminal of the Malé International Airport. You will be treated to an assorted gallery of consumer goodies - including liquor, to make your retail therapy effective.