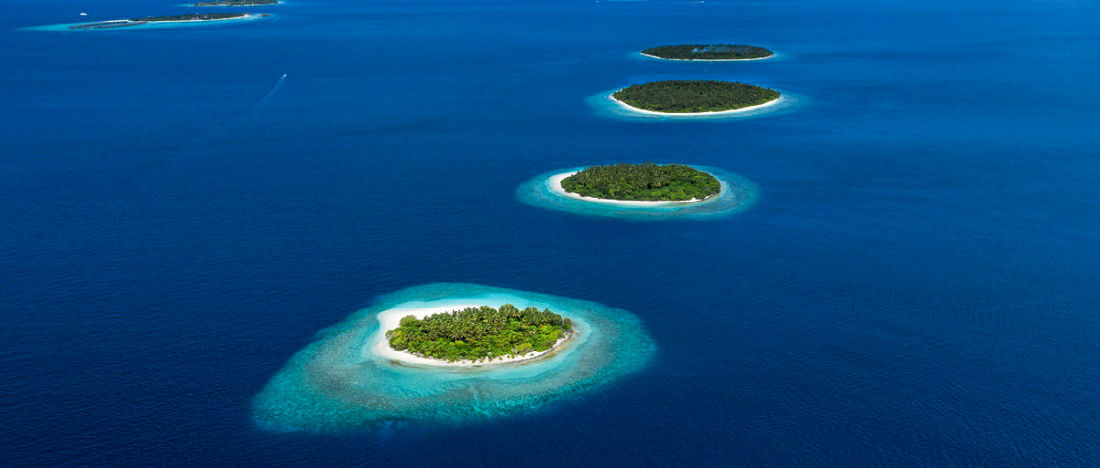 Maldives is resplendent with extraordinary tropical islands that have earned it the candid title of the quintessential dream holiday destination.
A beautiful string of low-lying coral islands in the Indian Ocean; the Maldives is a by-word for luxury, romance and tropical bliss, and a paradise for diving enthusiasts and sun seekers alike.
The choice of accommodation in the Maldives is impressively diverse. From tiny hideaways with just a handful of rooms to larger, all inclusive resorts with abundant facilities; authentic, rustic retreats to cool and contemporary hotels; and simple beachfront bungalows to the most exclusive overwater villas. Sand floor bars, overwater restaurants, open-air bathrooms and – at the luxury end of the scale – private Jacuzzis or plunge pools are archetypical of a Maldivian resort.
All the islands are surrounded by spectacular coral reefs, with fantastic marine life just moments from the shore. And if it is man-made and underwater, then chances are that it is a "world's first". There is an underwater spa, underwater music club and underwater restaurant and an underwater wine cellar now found in Maldives.
The choice of accommodation in the Maldives is impressively diverse.
From tiny hideaways with just a handful of rooms to larger, all inclusive resorts with abundant facilities; authentic, rustic retreats to cool and contemporary hotels; and simple beachfront bungalows to the most exclusive overwater villas. Sand floor bars, overwater restaurants, open-air bathrooms and – at the luxury end of the scale – private Jacuzzis or plunge pools are archetypical of a Maldivian resort.
Tourism only began in the 1970s, but it is now the most important industry which concentrates more on the luxury market, making the country home to some of the world's best holiday resorts.
Maldives has a long standing reputation of its high standards of accommodation and lifestyle at resorts for guests and has been constantly awarded of many global titles as a leading luxury destination.
Facts in Brief
Official Name:
Republic of Maldives
Location:
Indian Ocean
Geographical coordinates:
Between 7° 6′ 35″ and 0° 42′ 24″ South
Between 72° 33′ 19″ and 73° 46′ 13″ East
Area:
118, 000 sq km (Out of which land is 298 sq km)
Exclusive Economic Zone:
359,00 sq km
Number of islands:
1,192 islands (199 Inhabited and 993 uninhabited – out of which about 110 are exclusive resort islands
Population:
540,554 (2020)
Capital:
Malé Island (population 133,379)
Major Industries:
Tourism, Fisheries and Shipping
Major Exports:
Fisheries products
Major Imports:
Consumer goods, capital goods and petroleum
National Tree:
Coconut Palm
National Flower:
The pink rose
Official Language:
Dhivehi
Second Language:
English
Religion:
Islam (Sunni Muslim) - 100% population
Government:
Democratic
Legal System:
The constitution of The Maldives which is based on Islamic Sharia
Head of State/Head of Government:
H.E Ibrahim Mohamed Solih - President (Elected 2018)
Independence day:
26th July
Republic day:
11th November
Time difference:
+5 hrs GMT
Currency:
Maldivian Rufiyaa (MVR)
Exchange Rate:
USD 1 = MVR 15.42 (Subject to change)
Official Weekly Holidays:
Friday and Saturday
Business Hours:
Government offices: 08:30 hrs – 17:30 hrs
Banks: 08:00 hrs – 13:30 hrs
Airports:

International: 5

Velana International Airport (MLE) - Hulhulé, Malé Atoll
Gan International Airport (GAN) - Gan Island, Addu Atoll
Hanimaadhoo International Airport (HAQ) - Hanimaadhoo Island, Haa Dhaalu Atoll
Villa International Airport (VAM) - Maamigili Island, South Ari Atoll
Maafaru International Airport (NMF) - Maafaru Island, Noonu Atoll

Domestic: 12

Hoarafushi Airport - Hoarafushi Island, Haa Alifu Atoll
Kulhudhuffushi Airport - Kulhudhuffushi Island, Haa Dhaalu Atoll
Funadhoo Airport - Funadhoo Island, Shaviyani Atoll
Ifuru Airport - Ifuru Island, Raa Atoll
Dharavandhoo Airport - Dharavandhoo Island, Baa Atoll
Dhaalu Airport - Kudahuvadhoo Island, Dhaalu Atoll
Thimarafushi Island - Thimarafushi Island, Thaa Atoll
Kadhdhoo Airport - Kadhdhoo Island, Laamu Atoll
Kooddoo Airport - Kooddoo Island, Gaafu Alifu Atoll
Kaadedhdhoo Airport - Kaadedhdhoo Island, Gaafu Dhaalu Atoll
Maavarulu Airport - Maavarulu Island, Gaafu Dhaalu Atoll
Fuvahmulah Airport - Fuvahmulah Island, Gnaviyani Atoll

Seaports:
1 (Malé)
Average Temperature:
30.7° Celsius (Maximum)
25.7° Celsius (Minimum)
Average Rainfall:
1868.9 mm
Electricity:
240 Volts, 50 Hz
Geography
The country consists of about 1,192 low-lying coral islands, none more than 3 meters above sea level, of which only 199 are inhabited. Most of the inhabited islands are covered by lush tropical vegetation and palm trees.
Numerous uninhabited islands, some of which are mere sand spits or coral tips, are covered in shrubs. Each island is surrounded by a reef enclosing a shallow lagoon. Hundreds of these islands together with other coral growth form an 'atoll', surrounding a lagoon.
Maldives has 26 naturally occurring atolls which are divided into 20 administrative districts:
Haa Alifu Atoll (Thiladhunmathee Uthuruburi)
Haa Dhaalu Atoll (Thiladhunmathee Dhekunuburi)
Shaviyani Atoll (Miladhunmadulu Uthuruburi)
Noonu Atoll (Miladhunmadulu Dhekunuburi)
Raa Atoll (Maalhosmadulu Uthuruburi)
Baa Atoll (Maalhosmadulu Dhekunuburi)
Lhaviyani Atoll (Faadhippolhu)
Kaafu Atoll (Malé Atholhu)
Alif Alif Atoll (Ari Atholhu Uthuruburi)
Alif Dhaalu Atoll (Ari Atholhu Dhekunuburi)
Vaavu Atoll (Felidhe Atholhu)
Meemu Atoll (Mulaku Atholhu)
Faafu Atoll (Nilandhe Atholhu Uthuruburi)
Dhaalu Atoll (Nilandhe Atholhu Dhekunuburi)
Thaa Atoll (Kolhumadulu Atholhu)
Laamu Atoll (Hadhdhummathi Atholhu)
Gaafu Alif Atoll (Huvadhu Atholhu Uthuruburi)
Gaafu Dhaalu Atoll (Huvadhu Atholhu Dhekunuburi)
Gnaviyani Atoll (Foahmulah)
Seenu Atoll (Addu Atholhu)
Most atolls of the Maldives consist of a large, ring-shaped coral reef supporting numerous small islands. Islands average only 1 to 2 square kilometers in area, and lie between 1 to 1.5 meters above mean sea level. Although some of the larger atolls are approximately 50 kilometers long from North to South, and 30 kilometers wide from East to West, no individual island is longer than 8 kilometers.The largest island of Maldives is Gan, which belongs to Laamu Atoll or Hahdhummathi Atoll.
The Maldives has no hills, but some islands have dunes which can reach 2.4 meters above sea level, like the North-West coast of Hithadhoo in Addu Atoll. The islands are too small to have rivers, but small lakes and marshes can be found in some of them.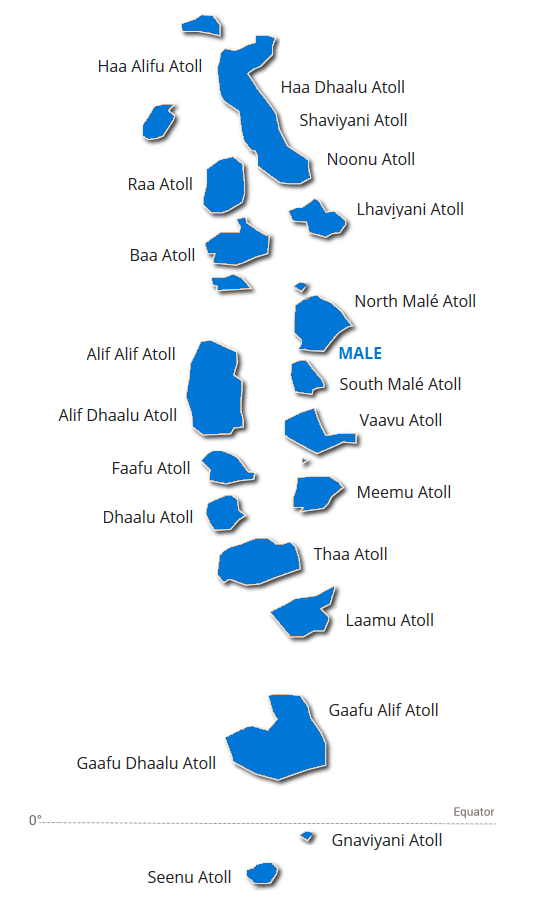 Climate and Weather
The Maldives remains one of the world's most beautiful tropical destinations with fine weather the year round on the northern islands and across the whole nation during the dry season. Whatever time of year the Maldives offer azure blue seas and sunshine, making it perfect for relaxing in its many resorts.
The islands of the Maldives make up the lowest lying country in the world. This in combination with the islands' equatorial location mean the Maldives climate is constantly hot and humid wherever you are.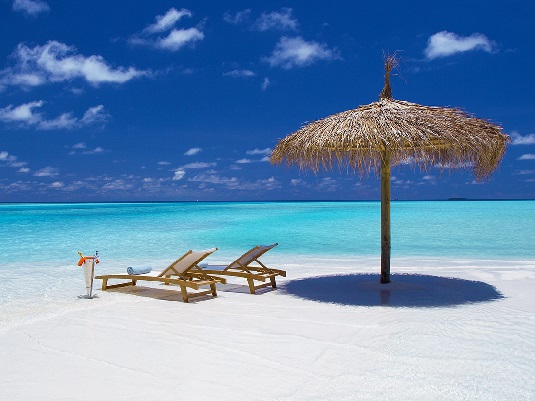 The Maldives is most popular with tourists as a winter getaway with the period from December to April drawing the most visitors taking advantage of the long warm days unspoiled by stormy weather.
Whilst less popular as a summer destination, the wet season in the Maldives is still hot and regularly sunny and the temperature averages around the high twenties and low thirties degrees centigrade. The average temperature generally ranges between 25°C (77°F) and 31°C (88°F) during the day, falling to 23°C (73°F) at night.
The wet season- southwest monsoon runs from mid-May to November. In this season Maldives experiences torrential rain. Central, Southern and Northern parts of the Maldives receive annual average rainfall of 1924.7 millimeters, 2277.8 millimeters, and 1786.4 millimeters respectively. The total annual rainfall is a bit more abundant in the southern atolls, and less abundant in the north.
Humidity is generally high with the wet season experiencing humidity levels of above 80% on average and the dryer months still as high as 75%; this is somewhat tempered by the sea breeze that can be felt almost anywhere on the small, flat islands that make up the Maldives, particularly during February and March when humidity is at its lowest.
The Maldives location 250 miles (700km) south west of the coast of the India leaves the islands vulnerable to weather patterns from the Asian mainland. Despite this, the Maldives are not as affected by monsoon weather as on the subcontinent meaning storms are less frequent and persistent than inland, particularly during the dry season when monsoon winds actually cause a reduction in humidity and drive storm clouds away from the island atolls.
Due to the lower rainfall and reduced humidity, Maldives climate is best experienced during the dry season, particularly between February and April. Although there is greater chance of rain during the wet season, the temperature remains high and there is still strong chances of extended periods of sunshine in between showers.
Fauna and Flora
The Maldives is embellished and ornamented with some diverse flora and fauna found in the entire world. Uniquely the marine flora and fauna originating in the Maldives is peerless.
The Maldives boasts of one of the most disparate underwater sceneries on earth. Gardens of coral reefs resemble a work of art that has mesmerised scuba divers from around the world. The open sea and reefs are inhabited by over 2000 species of colourful fish of various proportions.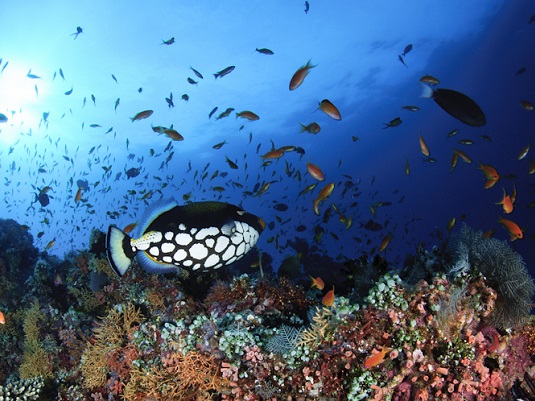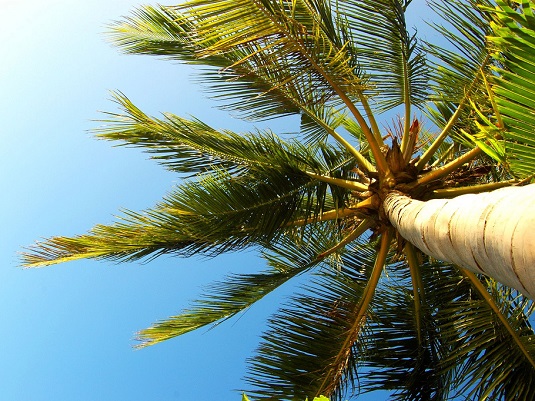 The skylines of most of the Islands are highlighted by the coconut palm tree, which is also the national tree. The shorelines of the islands are covered by variety of grass, sedge, shrubs and trees. The tallest tree found in the Maldives is the banyan tree.
Terrestrial animals and birds are limited in the Maldives, due to the tropical nature of the country. However, a rich collection of marine birds calls Maldives home. Over 160 species of birds have been recorded in the Maldives.
History
The earliest settlers were believed to be from Southern India. Indo-Aryans followed them from Sri Lanka in the fourth and fifth centuries B.C. In the 12th century AD, sailors from East Africa and Arab countries came to the islands.
Originally predominantly Buddhist, Maldivians converted themselves to Sunni Islam in the mid-12th century. Islam is believed to have come to the indigenous population from the Arab traders for whom the Maldives became an important stop on their way to the Far East. The official and common language is Dhivehi, an Indo-Aryan language related to Sinhala which is a language of neighboring Sri Lanka.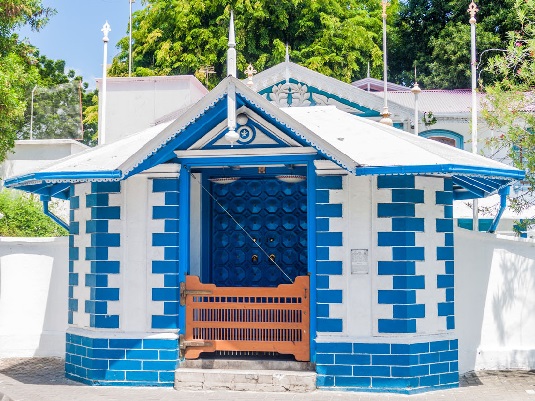 Over the centuries, the islands have been visited and their development influenced by sailors from countries on the Arabian Sea and the Indian Ocean littorals. Mopla pirates from the Malabar Coast harassed the islands. In the 16th century, the Portuguese subjugated and ruled the islands for 15 years (1558-73) before being driven away by the warrior-patriot Muhammad Thakurufar Al-Azam.
Although governed as an independent Islamic Sultanate for most of its history from 1153 to 1968, Maldives was a British protectorate from 1887 until July 25, 1965. In 1953, there was a brief, abortive attempt at a republican form of government, after which the sultanate was re-imposed.
Following independence from Britain in 1965, the sultanate continued to operate for another 3 years. On November 11, 1968, it was abolished and replaced by a republic, and the country assumed its present name.
Culture and Traditions
The Maldives is located at an important crossroad in the Indian Ocean and the visitors have left their marks. The culture, traditions and customs of the country are influenced by Indian, Sri Lankan, Malaysian, Arab, Persian, Indonesian and even African influences. This fabulous cultural mix makes all the richness of the Maldives. However, acting as a melting point the Maldives assimilated these influences and has created a unique cultural identity for itself.
It is primarily an Islamic country, and the populace as a whole is somewhat conservative although the laws are not as strict as those found in some Arab nations.
Islam, the state religion of the country dictates various cultural aspects of the community and it has also strongly influenced the local arts and crafts. Many handicrafts being decorated with intricate Arab scripts taken from the Quran.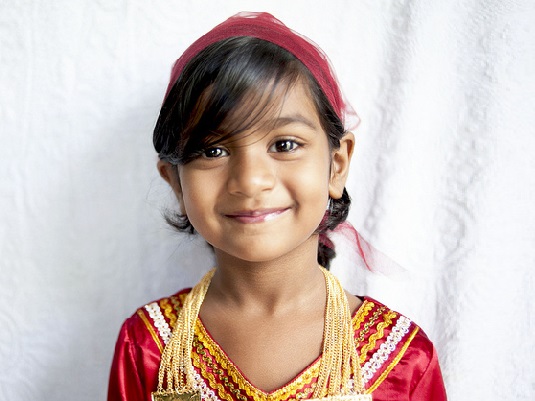 Religion and Language
Islam is the state religion of the Maldives and the population is entirely Sunni Muslim. The citizens regard Islam as one of their society's most distinctive characteristics and believe that it promotes social harmony and national identity and the practice of other religions is illegal.
In addition to the landmark golden Grand Friday Mosque, about 20 other mosques are in Malé city. Mosques are also in each of the inhabited islands. The President is considered the primary religious leader, and the judges known as Gazis are responsible for interpreting Islamic law in the courts. Most holidays are based on the Islamic lunar calendar.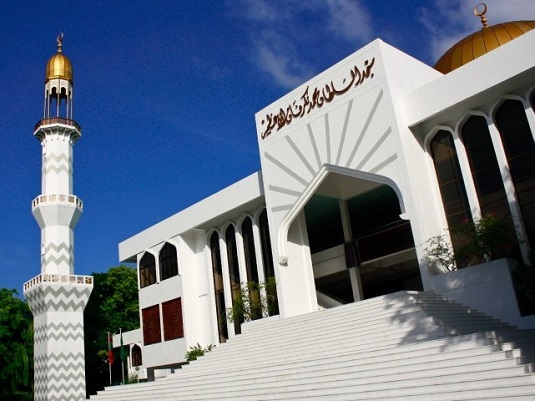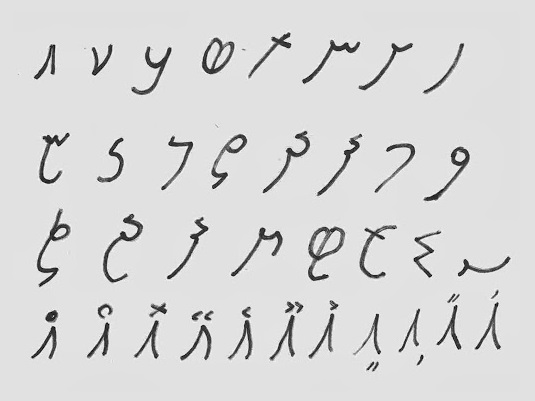 Dhivehi is the native language and the national language of Maldives. It displays many resemblances to some other languages from Sri Lanka and the rest of Asia. It contains many Arabic, Indian and English words as well. Historically the early people have spoken a form of ancient Sinhalese of Sri Lanka. Many of the Dhivehi words have their roots in Sanskrit as in the case of Sinhalese.
Though there are a few dialects of Dhivehi spoken in the Maldives, a formal Dhivehi is used in education and all government work.
English is widely used as a business language in government offices and the commercial sector. French, German, Russian, Italian and Chinese languages are now widely used at the tourist resorts.
Social conventions
The advent of tourism in the 1970's accelerated the modernisation process of the country. As a result of economic growth, dramatic lifestyle changes were introduced.
The majority of the indigenous population who are not connected with the tourism or other international trade activities live in isolated island communities maintaining almost total privacy. Traditionally the island communities were very close-knit. This togetherness is still prevailing in the small island societies. Accordingly men will be mainly engaged in fishery, carpentry and toddy tapping. Women were mainly engaged in household duties and raising families. Today an increasing number of women hold crucial positions within the public and private sector.
The Maldives is a nation that has a strong sense of patriotism. Being a small country all citizens in some way or the other are connected to each other bringing about an almost natural sense of unity.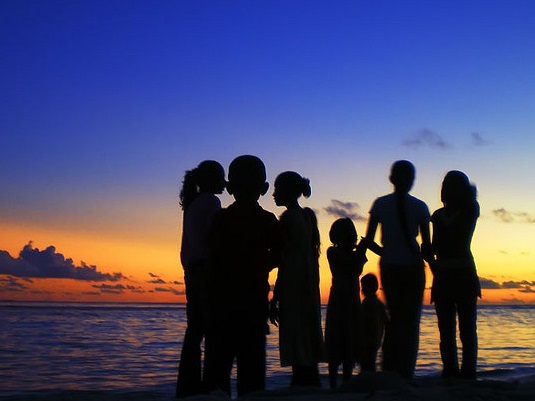 In the capital Malé and many other administrational islands there are many places and monuments that emulate this sense of patriotism.
Handshaking is the most common form of greeting. Dress is informal, but locals who are Muslim will be offended by nudity or scanty clothing in public places, and the government rigidly enforces these standards. Bikinis and other scanty beachwear are not acceptable in Malé or on any other inhabited island and they should be restricted to resort islands only. When entering a mosque, the legs and the body, but not the neck and the face, should be covered.
A large number of locals smoke, but smoking and eating in public places during the Ramadan fasting period is discouraged.
Arts
The island's music and dances show a strong African and Indian influence.
Traditional music and dance performances are fairly common and one should try to catch a show or two. Boduberu, Thaara, and Gaa odi lava are probably the most well-known types of indigenous music.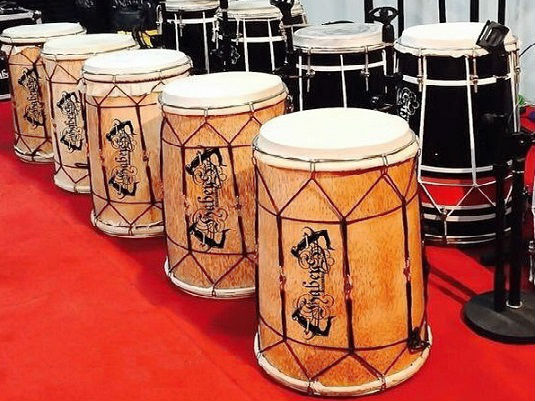 It is worth spending a few evenings attending a dance performance or recital whilst you are there as it will be perfectly unique.
Most acts of dance and music have been brought to life for a specific purpose, such as the Gaa odi lava, which is a performance that takes place to commemorate a day of hard labour, kadhaamaali which has been created to ward off evil spirits, bolimalaafath neshun being a dance performed by women on special occasions or when giving gifts to the sultan and Thaara a religious recital.
However, the most popular and widely practiced type of music is the boduberu, which is entirely home-grown. The beat starts off at an adagio and gradually reaches a crescendo, accompanied by fast paced dance moves. The history of boduberu's existence in Maldives is known to date back to the 11th century and is executed with the help of small bamboo sticks and bells.
Dances such as the Bolimalaafath Neshun, which were performed by two dozens of ladies when presenting gifts to the Sultan as a mark of patriotism have gone out of existence since the Maldives became a republic, but if you are really lucky, at an opportune moment there is still a possibility to see these dance routines on exceptional occasions.
Education
There are 3 streams of Maldivian school education as traditional religious schools, modern Dhivehi language primary schools and modern English language schools.
The primary Maldives education comprises of classes 1 to 5 and the age of the enrolling children usually varies from 6 to 10 years. Secondary education is further divided from classes 6 to 10 and higher education constitutes class eleven and twelve. Primary and secondary schooling is based on the British educational system. Distance educational courses and educational programs are also provided.
Initially the traditional education was imparted by the religious leaders in Maldives. Such schools were known as 'Edhuruge' and they basically followed the patterns of Quaranic schools. The Primary schools in Maldives are also known as 'Madhrasaa Islamiyyah' in Arabic; meaning 'Islamic school'.
Maldives colleges and universities cater higher education to the individuals and they are controlled by the Ministry of Education. The latter half of 1993 witnessed the opening of Maldives Institute of Technical Education.
The government makes large investments in secondary, vocational, and post-secondary education. Over the years the Maldivian government has been introducing more modern English language education and the literacy levels are now quite high.
Maldives boasts a 98% literacy rate among the adults and 100% of the children of schooling age. More than 98% of male population in Maldives is literate, while literacy rate among the female population is 96%.
Economy
Tourism, Maldives' largest economic activity accounts for nearly 30% of GDP and more than 60% of foreign exchange receipts. Fisheries is the second leading sector.
Agriculture and manufacturing play a lesser role in the economy, constrained by the limited availability of cultivable land and the shortage of domestic labor.
Manufacturing industry, which consists mainly of garment production, boat building and handicrafts, accounts for about 7% of GDP.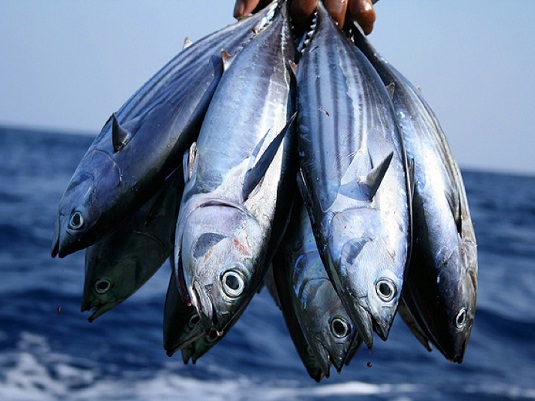 Over 90% of government tax revenue comes from import duties and tourism-related taxes. In recent years, gross foreign reserves have hovered around $300 million. A new Goods and Services Tax (GST) on tourism introduced in January 2011 and a new Business Profit Tax introduced in July 2011 have provided a boost to the government revenue.
Diversifying the economy beyond tourism and fishing, reforming public finance, increasing employment opportunities are other near-term challenges facing the country.
Over the longer term, the concerns are the impact of erosion and possible global warming on the low-lying country of which 80% of the area is less than a metre above sea level.