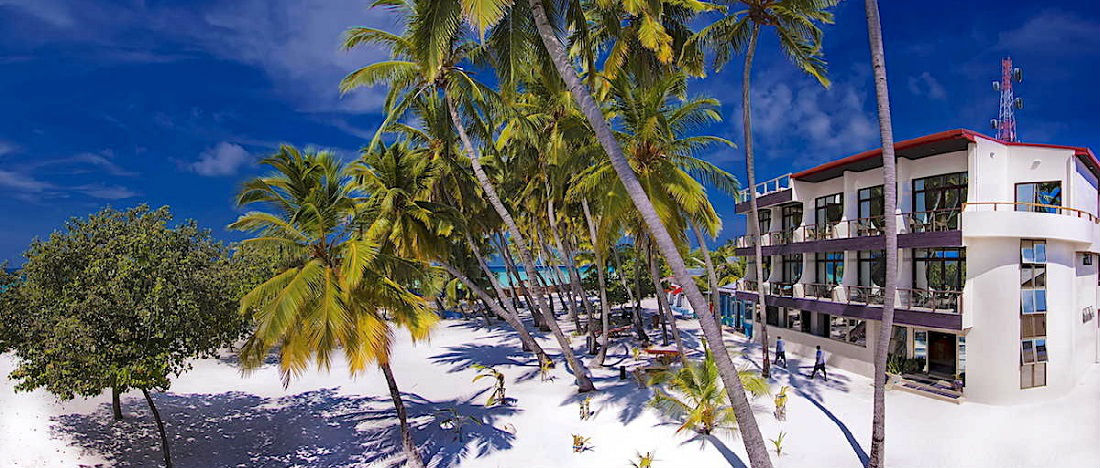 Since of late, independent travel to this island nation has slowly been making an appearance. Small budget hotels termed 'Guest Houses' are now on local inhabited islands for the travellers who looked for a taste of paradise without the five-figure price tag.
These Guest Houses provide good amenities and the essentials like air conditioning at a fraction of the cost of a resort holiday, while bringing about a closer experience of the real Maldivian life and culture.
Guests also have the opportunity for watersports, diving and other activities like night fishing and excursions to uninhabited islands and sandbanks through local dive and watersports providers in the islands.
The main difference between guesthouses and resorts are that guesthouses do not own their own island, which means the guests will have to be respectful of the local community, will need to be more mindful of local customs, in particular, women will need to dress much more modestly than on a resort island.
You can stay on the local island beaches itself and even snorkel from the shores, or for you the Maldivian trade mark sandbanks and reefs are a short boat ride away from your Guest House.
Guests also can make use of the public transportation in place for the locals, saving one of the exorbitant costs a tourist who comes to a resort would normally spend on seaplane transfers and speedboats to reach the resort.
With the government regulation allowing opening of Guest Houses in local islands, Maafushi Island was the first to secure investments in tourism accommodation. The first guest house was opened in January 2010 in Maafushi, and since then, many have opened providing the local community with foreign currency inflows. Most guest houses are funded by direct investments by local residents of the island and it also provide the island community with direct employment.
One other inhabited island where guest houses are growing is Huraa, situated in North Malé Atoll of Maldives, one of the nearest locations from Malé International Airport (20 km), a special place where to discover the genuine side of Maldives, enjoying an unforgettable holiday in a local guest house, living an amazing experience among island inhabitants at affordable prices and in the same beautiful waters as the surrounding luxury resorts.
Some other popular locations where Guest House accommodation is now offered are Hulhumalé in North Malé Atoll, Guraidhoo in South Malé Atoll, Dhigurah in South Ari Atoll, Gan in Laamu Atoll, Fuvahmulah in Gnaviyani Atoll, Dharavandhu in Baa Atoll and Hanimadhoo in Alif Atoll.
You can head over to a nearby uninhabited island or a sandbank where you can be in swimwear. A dhoni (traditional boat) can take you to those preferred spots. You can have free reign on such island hardly having to share the beach with anyone.
It should be also noted that the Maldivian laws prohibit selling and consumption of alcoholic drinks on inhabited islands where the Guest Houses are located. Alcoholic drinks are served in the bars of the nearby tourist resorts and generally these Guest Houses organise regular excursion trips to their nearby resorts for using its facilities.
Watching the sun go down the horizon or sun bathing the whole day on a beach of the Maldives is not everything there is to this experience. Staying close to the people of the Maldives in an island guesthouse instead of a tourist-filled resort will take you to adventures of simple joys of life.