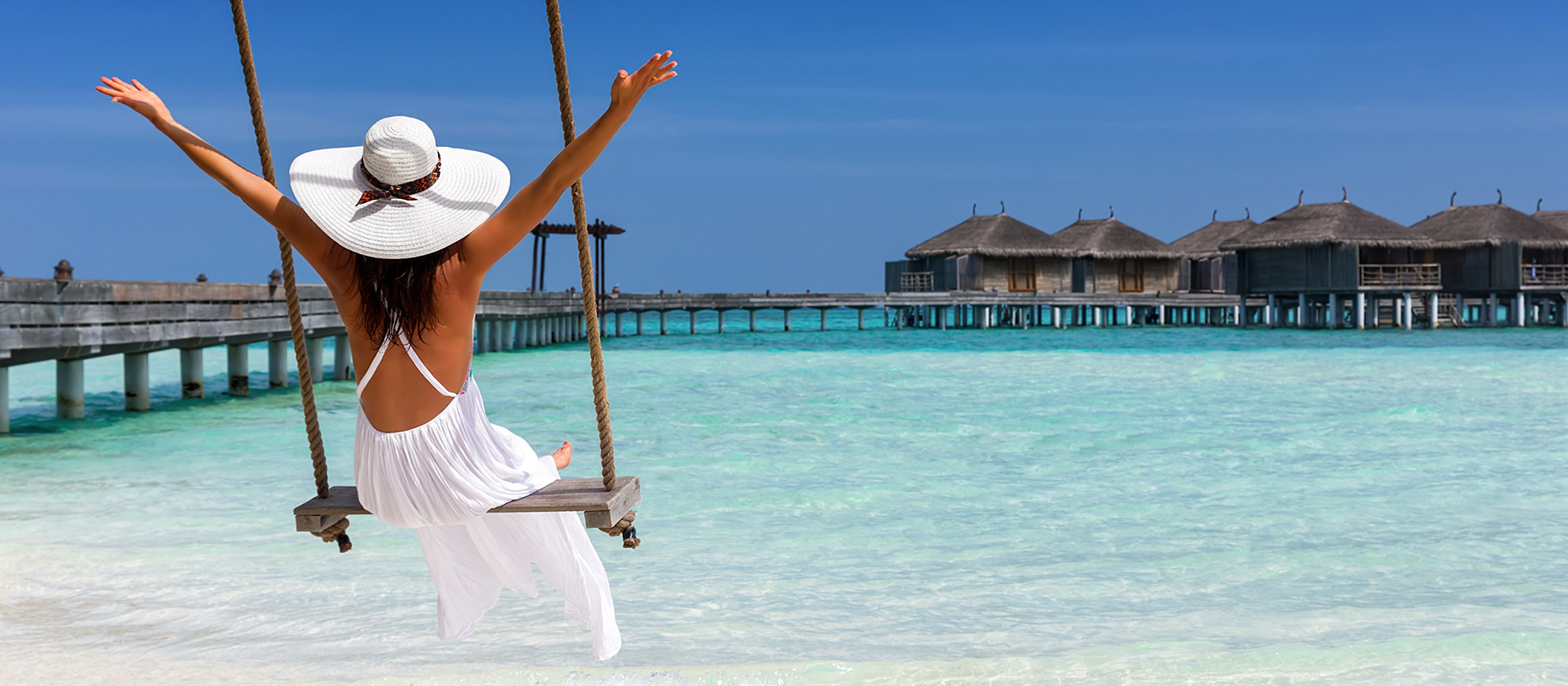 Evoking images of white sands, swaying palm trees and crystal blue waters, your stay in the Maldives will be the quintessential picture-perfect holiday. Far-flung and exotic, it can be the ultimate luxury beach escape.
Do as much or as little as you wish in the Maldives. With sublime diving opportunities just steps from the shore, iconic resorts showcasing the very best in luxury and the views that will take your breath away, a holiday to this exotic corner of the world will stay with you forever.
In essence, this is the place for relaxation. Expect to lose all sense of time, what day it is and what is going on elsewhere. This is the home of 'no news; no shoes' after all.
Even so, as is the case with any exotic destination, it is always prudent to keep the local conditions and regulations in mind when visiting.
Travelling to Maldives
BY AIR
Almost all present international flights of Maldives operate to and from the Velana International Airport at Malé, which is central to both the Northern and Southern atolls. The Airport is on an island named Hulhulé, which is 2 kilometers away from the capital Malé Island. Malé is a 4 hours flight from Singapore; 7 hours from China; around 10 hours from the Europe; and 3 hours from the Middle East. Colombo, the capital of Sri Lanka is one hour's flight away.
Presently regular scheduled air services to Velana International Airport, Malé are operated by Emirates Airlines from Dubai and Colombo, Qatar Airways from Doha, Sri Lankan Airlines from Colombo, Maldivian Airlines, Indian Airlines, Go Air and Indigo Airlines from India, Etihad Airways from Abu Dhabi, Oman Air from Muscat, Singapore Airlines and Silk Air from Singapore, Air Asia from Bangkok and Kuala Lumpur,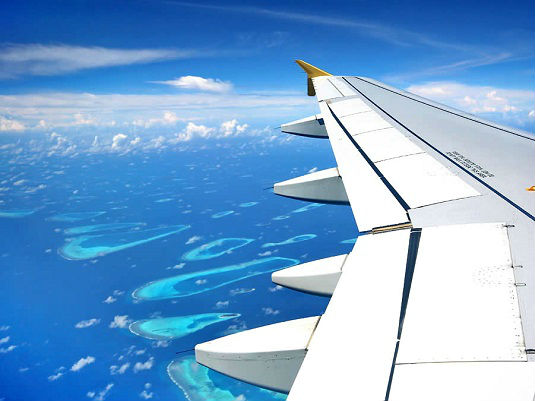 Turkish Airlines from Istanbul, Bangkok Airways from Bangkok, Cathay Pacific Airlines from Hong Kong, Aeroflot Russian Airlines from Moscow and China Eastern Airlines and China Southern Airlines from China and Colombo, while several charter flights are being operated from Europe.
The other international Airports of the island nation are,
Gan International Airport (GAN) - Gan Island, Addu Atoll
Hanimaadhoo International Airport (HAQ) - Hanimaadhoo Island, Haa Dhaalu Atoll
Villa International Airport (VAM) - Maamigili Island, South Ari Atoll
Maafaru International Airport (NMF) - Maafaru Island, Noonu Atoll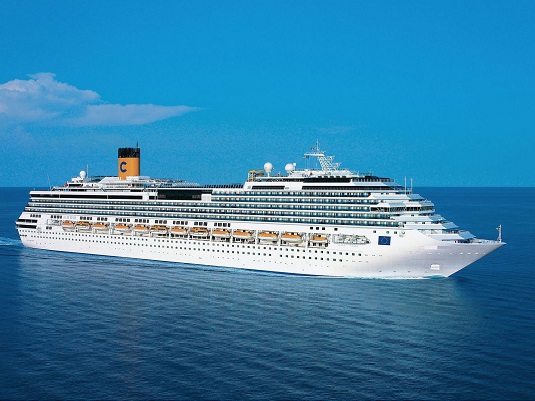 BY SEA
There are several cruise liners that call at Maldives for stopovers as part of their long-haul cruise itineraries. The passenger vessels are serviced at the anchorage of Malé Port where the ships are moored or anchored and passengers will be tendered ashore. The tender will drop you off at a dockside where the main attractions in the city are within walking distance.
Generally the stop overs of international passenger cruise liners are for a day at the port of Malé and exploring the capital city and venturing further afield with a short boat trip to one of the resort islands is customary. Depending on the duration of your stay in Maldives there are number of other sightseeing and leisure travel options that can be arranged to experience Maldives, even including an overnight stay at a resort island.
Time to visit
The tropical Maldivian climate is by and large very pleasant, with sunny weather all year round. However the Southwest monsoon brings some rainfall, especially in the period from June to August.
Generally, the drier months of the year are between November and April; March and April being the hottest months. The wetter season, runs from May to early November. June, July and August often see more rain, and most of it is experienced in the Southern atolls.
December to April is the high season, which encounters the drier Northeast monsoon. Though Maldives never sees overcrowding, the room rates are at their peak. If you can afford a trip at this time, you will have less humidity and slightly warmer temperatures; in a word - 'ideal'.
May to November low season has a lot going for it. Fairly reasonable prices, fewer people at the resorts, and optimal surf and scuba conditions are just some of the perks. You will encounter some brief periods of rainfall, but storms usually move through the archipelago quickly. And you can expect the Maldives' standard 80 degree temperatures during most of the day and night while having the least company and the best prices at the hotels.
Where to stay
If you want to get the best from your visit, it is important to choose the right accommodation for you. The key to an all-encompassing holiday in Maldives is picking the right resort, the one that suits your demands the best, and still keep it affordable.
Island resorts in the Maldives are world class, with an unmatched range of top end luxury resorts as well as plenty of mid-range accommodations and a smaller number of budget resorts which tend to be favoured by divers and families. Many of such are larger in size than the average, although there are plenty of laid back, quiet resorts in this category too.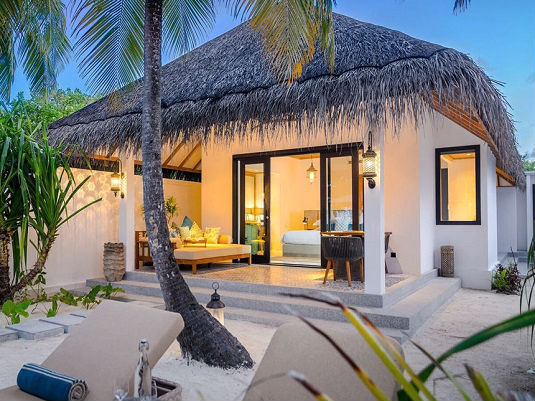 There are city hotels and transit hotels in the capital Malé and the nearby Hulhumalé island for business travelers looking for accommodation in and around the capital and for the travelers who stopover to or from their holiday resorts.
Avid divers, underwater enthusiasts, nature lovers discover remote shores, rarely visited diving spots and snorkeling sites with the unique experience of live-aboard cruising. Dive safaris, as they're locally known, are the easiest and most rewarding way to check out the scattered groups of tiny island atolls and incredible reefs of this picture-perfect marine wonderland.
Dive live-aboards in Maldives mostly do scheduled itineraries to some of the best diving hot spots in the world and gives an opportunity to discover 2 to 3 atolls in a week's tour.
Though resorts are the mainstream tourist accommodation, Maldives now allows locals to operate tourist guesthouses, making way for some affordable tourist accommodation on the local resident islands. These guesthouses provide good amenities and the essentials like air conditioning, at a fraction of the cost of a resort holiday, while bringing about a closer experience of the real Maldivian life and culture.
You may get the help of our 'Hotel Search' option on our Home page, or simply contact us to guide you in choosing the right accommodation to meet your requirements.
Getting about in Maldives
Transportation between the Airport and the resort islands is by sea or air. The resorts closest to the Airport - generally the ones located in the Malé Atoll are accessed by speedboat from the Malé International Airport, and these transfers are provided day and night mostly.
The resorts that are located in further Atolls are usually accessed by seaplane. Seaplanes only fly during daylight hours and if your international flight arrives in the evening, you will be required to have transit accommodation close to the Airport for being transferred by seaplane to your resort island on the following day morning.
Transfers to the resorts in the furthest Atolls are provided by domestic flight. It requires a short boat trip from the destination Domestic Airport to the resort. Some of the resorts located in close proximity to the Domestic Airports in nearer atolls too offer the option of domestic flight transfers in additional to seaplane transfers.
Domestic flights operate on a fixed schedule and it is an option of travel available day and night. There are 16 Airports to which domestic flights are presently operating from Velana International Airport, Malé.
Hoarafushi Airport - Hoarafushi Island, Haa Alifu Atoll
Hanimaadhoo Airport - Hanimaadhoo Island, Haa Dhaalu Atoll
Kulhudhuffushi Airport - Kulhudhuffushi Island, Haa Dhaalu Atoll
Funadhoo Airport - Funadhoo Island, Shaviyani Atoll
Maafaru Airport - Maafaru Island, Noonu Atoll
Ifuru Airport - Ifuru Island, Raa Atoll
Dharavandhoo Airport - Dharavandhoo Island, Baa Atoll
Villa International Airport - Maamigili Island, South Ari Atoll
Dhaalu Airport - Kudahuvadhoo Island, Dhaalu Atoll
Thimarafushi Island - Thimarafushi Island, Thaa Atoll
Kadhdhoo Airport - Kadhdhoo Island, Laamu Atoll
Kooddoo Airport - Kooddoo Island, Gaafu Alifu Atoll
Kaadedhdhoo Airport - Kaadedhdhoo Island, Gaafu Dhaalu Atoll
Maavarulu Airport - Maavarulu Island, Gaafu Dhaalu Atoll
Fuvahmulah Airport - Fuvahmulah Island, Gnaviyani Atoll
Gan Airport - Gan Island, Addu Atoll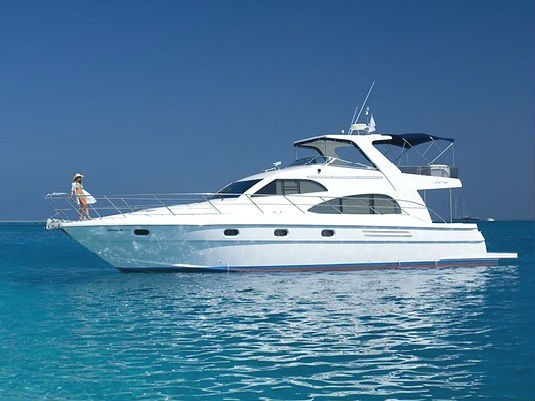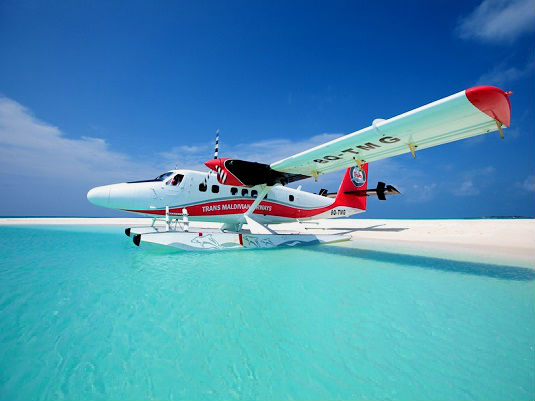 Resorts to which transfers are usually by flight (Domestic flight or seaplane) are so because of the distances involved. It is likely that a boat transfer over such distances may involve long journeys, difficult sea conditions and the crossing of channels which could lead to an uncomfortable and a tiring journey.
On arrival at Malé International Airport, one of our Representatives will welcome you and assist you with your transfer to the booked resort. Generally, all boat and seaplane transfers are not private transfers and you may have to wait until all other guests travelling in the same boat or seaplane arrive before you leave to the resort. If you intend to have private transfers, it could well be arranged as well at higher rates.
Ferries that leave every few minutes are available for travelling to Malé city from Malé International Airport. Taxis are available in Malé city and passengers are charged Rufiyaa 25 for each trip. However in Malé city the easier option will be walking as anywhere in the city is reachable in about ten minutes time.
With all transfer modes, to ensure smooth arrival and departure movements, it is important that the international flight details are forwarded to us well in advance.
Visa and customs
The visit visa policy in the Maldives is remarkably simple and straightforward.
Visitors of all nationalities receive a 30 day visa free of charge upon arrival to Maldives. However the visitor must possess a legitimate travel document valid for 6 months from the date of entry, a return air ticket and evidence of adequate funds for the stay, which may translate to a hotel reservation voucher.
A Tourist visa may be renewed by application to the Maldives Immigration before the expiration of the visa granted on arrival.
This extension can only be applied through the Visa Extension Application procedure at the Maldives Immigration Head Office in Malé. Extension if considered would be granted for a maximum duration of 90 days including the number of days granted on arrival.
A visa fee of MVR 750 (approximately US$ 50) is charged for such an extension.
For further details and up to date information on visa regulations, please visit the website of Maldives Department of Immigration and Emigration.
Your luggage is customarily subjected to X-raying upon arrival by Maldives Customs.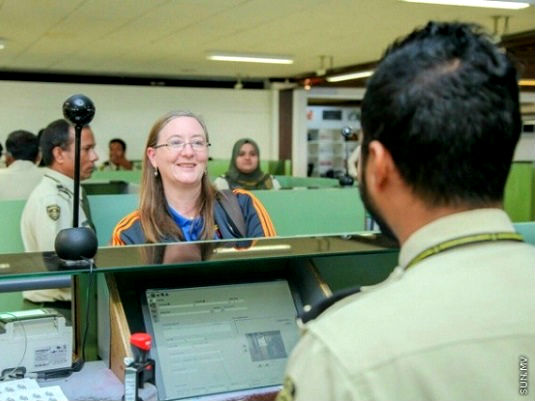 BANNED ITEMS
Bringing in alcohol, pork, pornography, non Islamic religious effects, arms and ammunition are strictly prohibited. A doctor's prescription is required for all medication. Numerous fish and marine products are banned from export, including coral, black coral necklaces, turtle shell, mother of pearl, conch shell and lobster meat.
DUTY EXEMPTIONS
The following goods can be brought into Maldives without customs duty by travelers over 16 years of age.
200 cigarettes or 25 cigars or 200g of tobacco.
Goods to the value of MVR 6,000.
ENTRY WITH PETS
It is forbidden to bring dogs and dangerous animals into Maldives. Other pets must have a valid veterinary certificate.
CURRENCY RESTRICTIONS
There are no restrictions on the import or export of local or foreign currency.
For further details and up to date information on customs regulations, please visit the website of Maldives Customs Service.
Money, currency and banks
The Maldivian currency is Rufiyaa (MVR). One Rufiyaa is 100 Laari and is available in 500, 100, 50, 20, 10 and 5 Rufiyaa notes. Coins are in denominations of Rufiyaa 2, 1, and Laari 50, 25, 10, 5, 2 and 1.
Major currencies can be exchanged at banks, tourist resort islands, hotels and leading shops. Payments at hotels can be made in most hard currencies (in particular US Dollars) in cash, traveller's cheques or credit cards.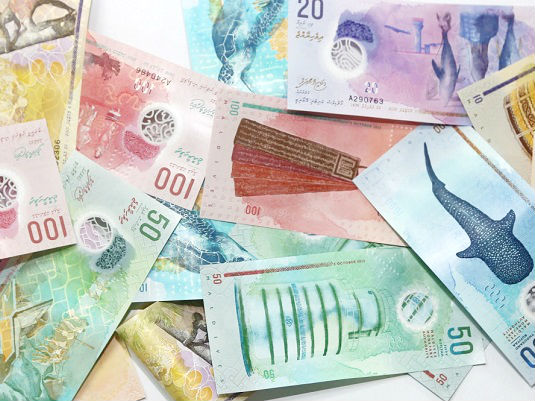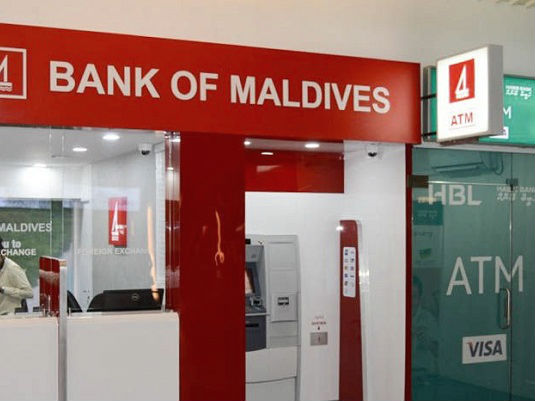 You can check out the present currency exchange rates for Maldivian Rufiyaa here.
The national bank, Bank of Maldives has several branches in Malé as well as in other major population hubs such as the Malé International Airport. Several foreign banks also operate in Malé city including State Bank of India, Bank of Ceylon, Habib Bank, Mauritius Commercial Bank, Amana Bank and HSBC which have automatic teller machine (ATM) services and credit card services at the city.
Food
LOCAL SPECIALTIES
Maldivian local cuisine is a fairly limited affair consisting of rice, fish, fruit and spicy curries. Your only chance to try 'real' Maldivian cuisine would be in Malé, where cafés sell traditional snacks or 'short eats' (Hedhikaa) which are cheap and plentiful.
Seafood such as tuna, grouper, octopus, jobfish and swordfish is widely available.
Kavaabu (deep-fried snacks made from rice, tuna, coconut, lentils and spices).
Curries, such as chicken or beef, are widely available. Curry leaves are added to a lot of Maldivian dishes.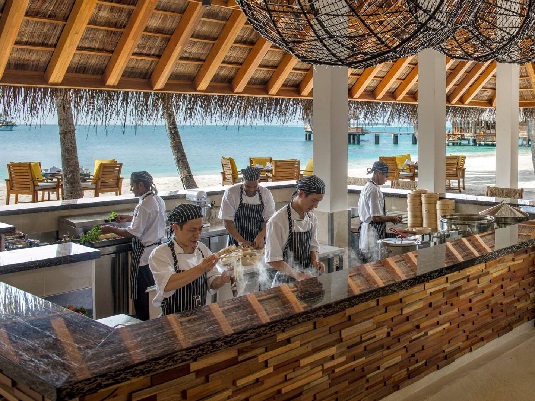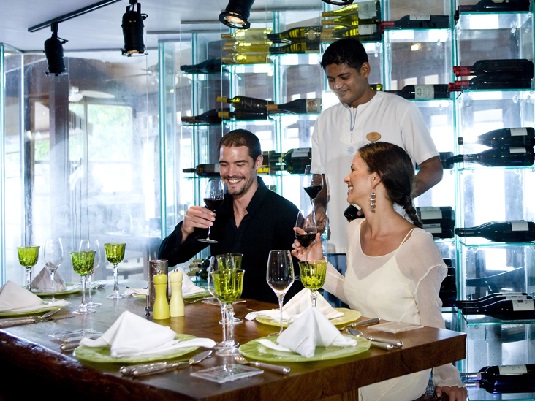 RESORT CUISINE
On resort islands the cuisine is international, with all food other than seafood are imported. There are normally several restaurants depending on the resort's size and the level of luxury.
ALCOHOLIC DRINKS
All resorts have bars, where there is a good range of alcoholic and non-alcoholic drinks offered. Bars are only allowed on resort islands, Airport Hotel and live-aboard vessels. Alcohol is not served in city hotels or island guest houses.
All restaurants and bars on resort islands are run by the resort and there is no access to private enterprise.
Dress
Maldives is on the equator with the temperature rarely dipping below 25°C, even at night. Lightweight, loose cotton clothing is therefore advisable.
The majority of visitors spend most of the day in swimwear. Bikinis are acceptable for ladies, but it should be noted that nudity is against the law as is topless sunbathing. Guests are requested to cover up in the restaurants and other public areas such as the Reception. Generally a sarong is sufficient for women although some resorts prefer ladies to have their shoulders covered as well.
A more modest form of dress is also required when vising the capital Male or a local island, when shoulders and thighs should be covered.
Some people like to 'dress up' in the evening, but on the majority of islands the dress code is very relaxed and smart casual is the order of the day.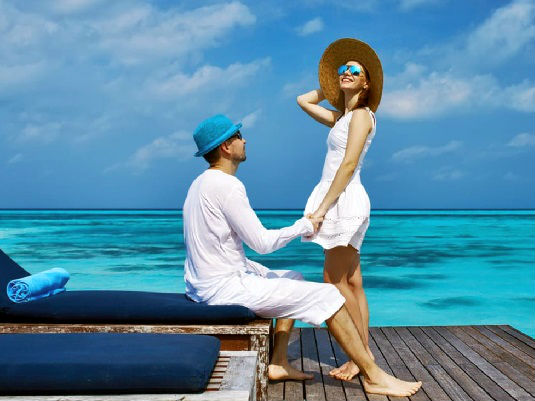 For men, smart or tailored shorts, 3/4 or full length lightweight trousers are all perfectly acceptable. T-shirts and short sleeved cotton shirts are seen in equal numbers, and occasionally vest tops, which on some islands are seen as inappropiate for the evening.
Ladies can be seen wearing everything from smart shorts and T-shirts to long floaty dresses, skirts or trousers.
The only footwear that is likely to be needed are flipflops or possibly low sandals. The vast majority of islands have sand pathways making the wearing of heels difficult.
It should be noted that some islands do have their own, specific dress code and it is advisable to check on this before packing.
Health and safety
HEALTH REQUIREMENTS
Travellers originating from a known yellow fever and cholera region should carry their vaccination record showing they have been vaccinated. Vaccinations against tuberculosis and hepatitis B are sometimes recommended.
HEALTH ADVICE
Maldives is a sunny country with a very healthy natural environment. However, before traveling it is anyways advised to visit your local health care consultant to ensure your vaccinations are up to date.
In 2015, World Health Organisation (WHO) declared Maldives as a Malaria free country. The present biggest concern most travelers have is Dengue fever. The easiest way to prevent this illness is to avoid mosquito bites. Mosquito repellent, long sleeves and pants, and other typical precautions will help reduce the number of bites and risk of Dengue fever.
Sunburn is another health risk in this tropical destination. Sunburns cannot only make you uncomfortable and miserable throughout your vacation, but it can also be quite dangerous in the case of sun poison. Be sure to take precautions to avoid it.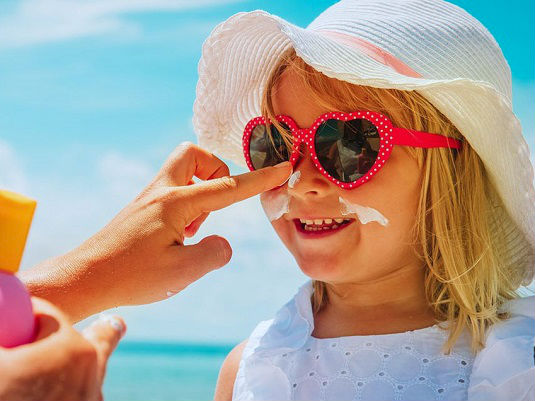 WATER AND FOOD SAFETY
The water provided in the hotels and resorts is generally safe to drink. In other places, water of uncertain origin used for drinking, brushing teeth or making ice should have first been boiled or otherwise sterilised.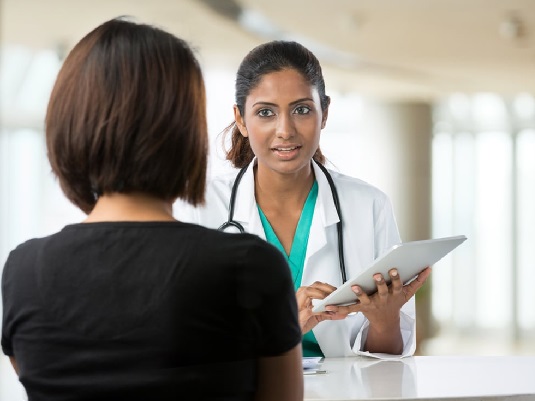 MEDICAL CARE
Health Care facilities are constantly improving in Maldives. Government owned Indira Gandhi Memorial Hospital in Malé is the largest hospital in the country and ADK Hospital is the largest private health care facility, and both these hospitals maintain good medical standards. At the AMDC Clinic in Malé too experienced doctors can be consulted.
Most resorts have a resident doctor, or share one with another nearby resort. However, if you are quite unwell it will be necessary to go to the capital Malé or to the nearest Atoll capital with a hospital if you are in a far-flung resort. Decompression chambers are within the reach of most resorts in case of a diving emergency.
Medical treatment in the Maldives can be very expensive and a comprehensive health insurance cover is recommended when travelling to Maldives.
Diving and snorkeling
Known for mantas and whale sharks especially, Maldives offers a wide variety of sharks including the exotics such as threshers, oceanic whitetips and tigers in certain sites and has abundant diversity of colorful fish species - triggerfish, sweetlips, angelfish, anthias, Moorish Idols, plenty of schools of snappers, jacks, barracudas, fusiliers, caves, caverns and overhangs with lovely soft corals and colorful sponges lots of energizing drift dives through channels and passages which cut between the atolls.
Diving may be booked at the time of the resort booking or after arrival at the resort which is the more common practice.
A medical certificate of physical fitness is required for all those taking a diving package in Maldiives. Qualified divers must bring their log book and copies of diving certificates. The minimum age for diving is 12 years.
It is recommended that divers bring their own mask and snorkel. In diving packages 'Tank and weights only' means that you must take your own regulator and stab jacket as well.
As diving is not usually covered by holiday insurance policies, we strongly advise that you take the extra cover.
You should not dive within 24 hours of arrival or departure flight.
As diving and snorkeling in the Maldives is top notch, many novices are tempted into trying the sport. Make sure you get proper expert advice and watch out for the sharks (though there has not been a recorded incident of a shark attacking a human in Maldives).
You could get stung by an anemone, a titan trigger fish, sea urchin or could touch a lionfish. But these are creatures that don't jump out at you and attack, just appreciate them and don't touch.
The most dangerous fish however, is the stonefish. It is highly venomous and tends to hang out on rocks where it looks like a stone. Its venom can be fatal. Take extreme care where you put your feet when snorkeling, swimming or scuba diving among coral reefs.
Do note that Maldives diving is more about abundant life than about colorful corals, but in most of the channels you will find caves, caverns and overhangs with lovely soft corals, colorful sponges, invertebrates and gorgonian fans.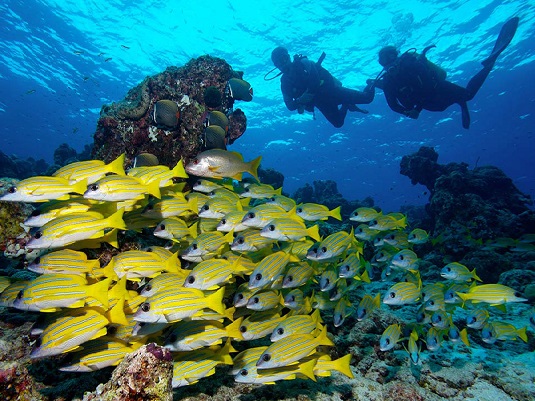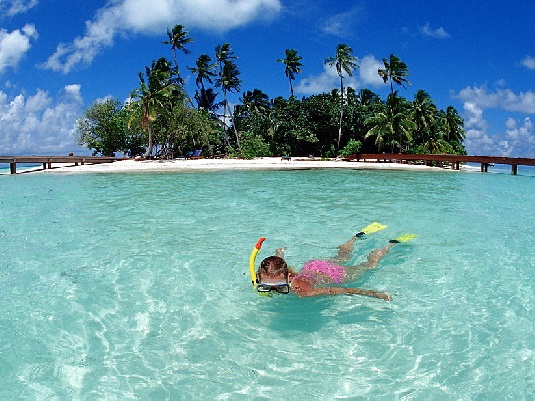 These areas also host cleaning stations where you will observe the fascinating process of the small-fries cleaning large ocean species.
Groupers, snappers, surgeonfish, eels, parrotfish, even Giant Napoleon Wrasse will install themselves in a quiet corner, while armies of wrasse, shrimp and other assorted cleaners pick at debris in their open gills and gaping mouths.
The rock pinnacles also provide rich diving and diverse life forms, while further afield from the reefs, you will marvel at the pelagic action. Here on the edge of the open water, you find the manta rays and eagle rays in plentiful supply, along with multiple varieties of sharks.
Shopping
In Malé, most souvenir shops line the northern end of Chaandanee Magu commercial district, known as the 'Singapore Bazaar'. You will see plenty of local handicrafts, shark teeth, jewelry and clothing including batik items. Lacquered wooden boxes are the most distinctive Maldivian handicrafts, and are most famously produced in Baa Atoll. The craft involves the process of shaping and hollowing out pieces of wood from endemic trees to form intricately crafted boxes, containers and ornamental objects.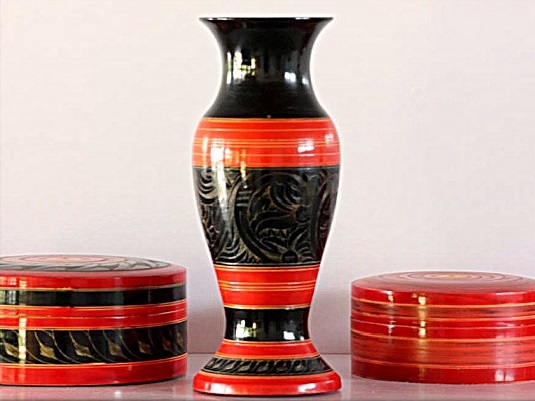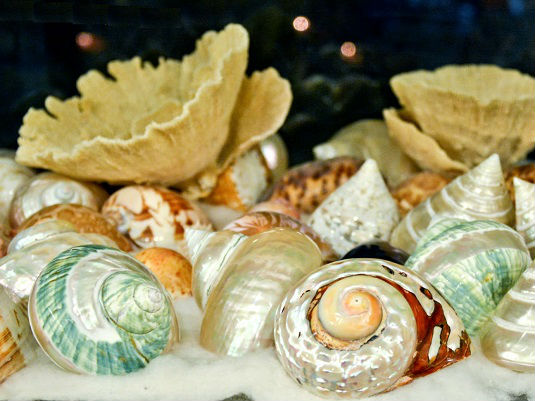 Beautiful reed mats are woven throughout the country, the most famous of which are those from Gaafu Dhaalu Atoll. Ranging from placemats to full-size single mattress mats, they are hand-decorated with intricate abstract designs.
Divers and surfers who want to stock up on equipment and accessories too can do so at its specialized shops there.
The local market offers stalls with a variety of local produce, mainly from the atolls, such as different kinds of local vegetables, fruits and yams, packets of sweetmeat, nuts and breadfruit chips, bottles of homemade sweets and pickles, and bunches of bananas.
Bargaining is limited to tourist shops in and around Singapore Bazaar and at island souvenir shops where prices are not much fixed.
Nightlife
Except for all resorts having bars open until midnight and having occasional live band music while few of the larger resorts having small discotheques, in most part Maldives has not been a destination for party lovers.
Now with the eclectic vibes of the new sophisticated and exclusive celebrity style party venues like the '15 Below' underground night club at the W Retreat & Spa and the likes of the exciting underwater party venue 'Subsix' at Niyama Maldives, the aura is changing.
'15 Below' at W Retreat is probably the most chic and unique night club in the Maldives. It is so named as it is in fact 15 feet underwater. Once you descend below the surface into the depths of the club you will be stunned by the elegant atmosphere.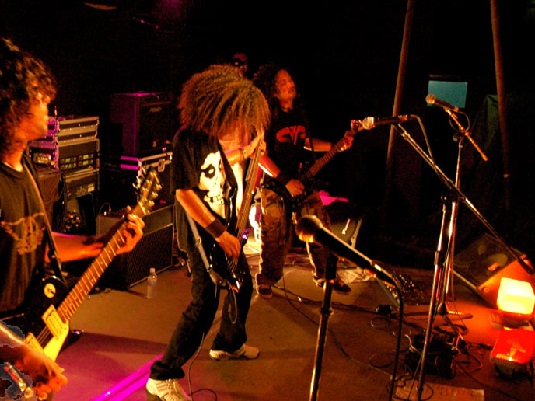 The club boasts os the best selection of vodkas that are unique to the Maldives, one of which is the only known vintage vodka in the world - 'The Kaufman Private Collection 2003 Vintage – Limited Edition'. Enjoy the sultry lighting, lounge beds and international DJs.
At the Maldives first underwater nightclub 'Subsix' you could delve into the depths of the Indian Ocean as you enjoy the some of the best nightlife that the Maldives have to offer. You can enjoy a delicious cocktail or glass of champagne while chilling out to some of the world's best DJs live.
Soneva Fushi boasts of the first open-air cinema in Maldives. The 'Cinema Paradiso' is situated on the beach. With luxurious cushioned loungers and a service of drinks, you can be sure that your experience will be a unique enjoyment. A variety of 60 different popcorn flavors and delicious ice creams are to compliment the experience.
Communication
TELEPHONE
The easiest way to call home is via a mobile phone or VoIP. The international access code for the Maldives is +960. No area codes are required. The outgoing code is 00 followed by the relevant country code (E.g. 001 for the United States). IDD facilities are available at all resorts and card phones are available on all inhabited islands.
MOBILE PHONES
Maldives has two mobile service providers, namely Dhiraagu and Ooredoo, and these operators use GSM 900 network.
Roaming agreements exist with most international mobile phone companies. Coverage is decent throughout the islands, though as the country is so spread out, there can be some blind spots. It is possible to buy a local SIM card at the Airport or in Malé city to make cheap local calls.
INTERNET
The Internet can be accessed from most parts of the Maldives. Malé, the capital, has internet cafés and Wi-Fi is available in some of the cafés. Almost all resorts have Internet connections via terminals for guest use or wireless, though these are not always free.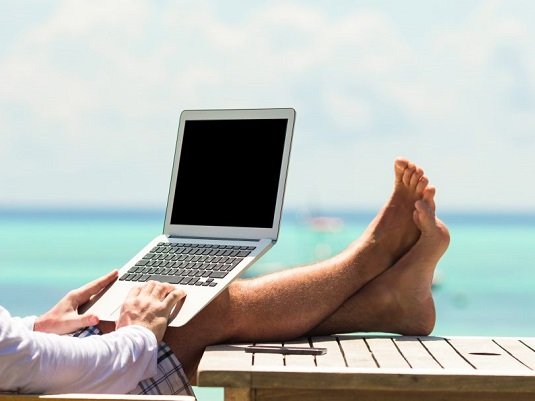 POSTAL SERVICE
Airmail to Western Europe and Far East takes about one week. Post offices open times are from 07:30 am to 1:30 am and 4:00 pm to 5:50 pm from Saturday to Thursday.
NEWS AND MEDIA
Local media is mostly in Dhivehi, though there are several online English language newspapers. European and American newspapers are sometimes available in international editions.
PRESS
Local dailies which are published in Dhivehi language have some English language pages and concentrate on local and regional topics. The Maldives News Bulletin is published weekly in English. The other dailies - Aafathis Daily News, Haveeru Daily and Miadhu News have English sections. Information about local events is widely available on all the resort islands.
TELEVISION
There are 3 local television channels broadcasting to the Maldives - TVM, Villa TV and DhiTV. TVM is the state owned television channel of the Maldives
RADIO
There are several local radio channels broadcasting in Maldives. The available frequencies are: Voice Of Maldives - 1449 KHz AM, Raajje FM - 91.0 MHz FM, Radio 2 - 91.0 MHz FM, DhiFM - 95.2 MHz FM, Capital Radio - 95.6 MHz FM, Minivan - 97.0 MHz FM, Capital Radio - 95.6 MHz FM, Sun FM - 94.6 MHz FM, HFM - 92.6 MHz FM, Farway FM - 96.6 MHz FM
Electricity
The voltage supplied is 220 - 240V of 50Hz, and if you need to plug in an appliance that was built for 110 - 120V, you would need a step-down transformer.
The standard socket is the UK-style three-pin and mostly the electrical sockets in the Maldives can be found of these types:
Type C - European CEE 7/16 Europlug
Type D - Indian 5 Amp BS-546
Type G - British BS-1363
Due to these variations an international adapter can be useful, though most resorts supply adapters for travellers. Also, it is advisable to take an extension adapter with multiple sockets in case there are too few plug points at your accommodation when you intend to use several electrical and electronic items such as hair driers, mobile phones, teblet PCs, iPods etc.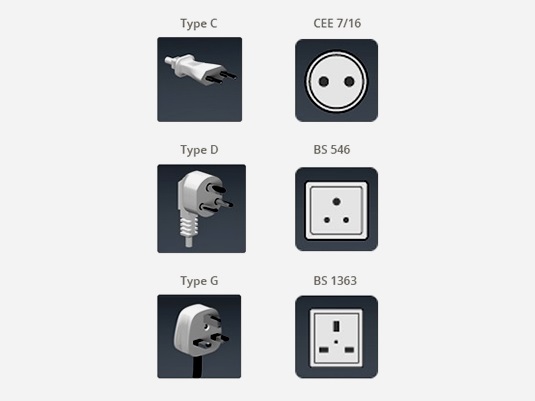 Business hours
Public sector working hours are from 8:00 am to 4:00 pm on Sunday to Thursday working weeks.
Private sector operates generally from 9.00 am to 5.00 pm on a Sunday to Thursday working week while most private sector offices are open for a half day on Saturdays as well.
Bank working hours are from 9:00 am to 3:00 pm from Sunday to Thursday.
The weekend falls on Friday to Saturday in Maldives.
Holidays
Notably, the weekends in the Maldives falls on Friday and Saturday on which government offices, banks and many of the shops are closed. However, these conventions have little effect on the resort islands.
PUBLIC HOLIDAYS FIXED ON CALENDAR
The following are fixed holiday dates in Maldives every year.
| | |
| --- | --- |
| 1st January | New Year's Day |
| 26th July | Independence Day |
| 27th July | Independence Day celebrations |
| 3rd November | Victory Day |
| 11th November | Republic Day |
| 12th November | Republic Day celebrations |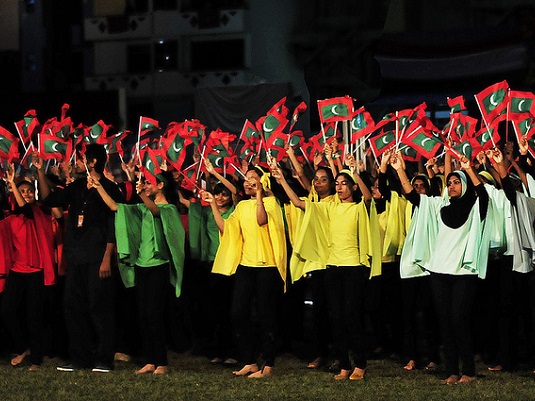 PUBLIC HOLIDAYS NOT FIXED ON CALENDAR
Other holidays are mainly religious and those are based on the Islamic lunar calendar, and thus dates vary greatly from year to year.
The festival of Eid Al Al'haa is celebrated throughout the Islamic world and the Maldives is no exception. Cultural events, feasts and the gathering of local communities makes Eid a memorable occasion. Islanders across the Maldives will travel with their family to celebrate, some escaping from the heat of the capital to their island homes and others to visit friends and family located on other local islands.
As well as the Muslim religious feasts, there are a number of holidays observed according to the Islamic calendar.
It is usual that if a holiday falls on a Friday or a Saturday, the next working day be declared a public holiday.
| | |
| --- | --- |
| Islamic New Year | 1 day |
| National Day | 2 days |
| Prophet's Birthday | 1 day |
| Huravee Day | 1 day |
| Martyrs' Day | 1 day |
| Start of Ramadan | 1 day |
| Eid Al Fitr | 3 days |
| Hajj Day | 1 day |
| Eid Al Adha | 4 days |